G.A.T.O.R.
Glide Action Translating Oil Rig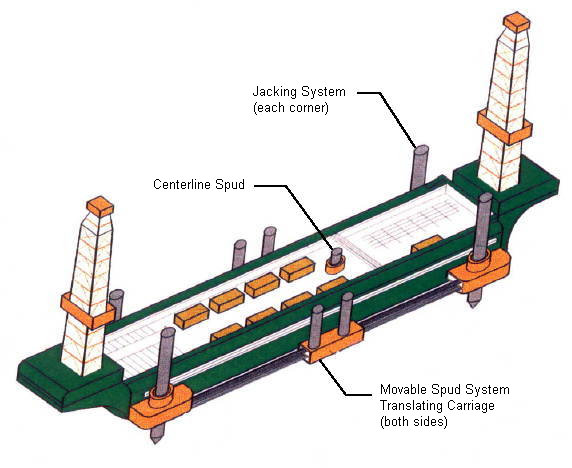 The G.A.T.O.R. is designed to address the need of performing heavy drilling operations where water depths of 0 to 5 feet are found. In areas such as the Caspian Sea there are potentially prolific reservoirs of oil and gas under large areas of silt and shallows. A mobile drilling unit is needed to move around in these areas without the need of building expensive islands, roadways, or dredging canals.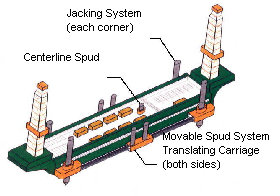 INFORMATION ON THE DUAL RIG ELEVATOR-G.A.T.O.R.
Light ship draft, 4 feet and 8 inches
Drilling capacity, 30,000 feet
Tankage sufficient to support dual drilling operations.
Rigs substructure skids. Up to 12 wells can be drilled.
Vessel can traverse 5 miles per day when water depth is less than 1 foot. Vessel bottom is designed to minimize friction.
Vessel is designed for "zero" discharge including rainwater.
Quarters for 150 personnel.
ADVANTAGES OF THE DUAL RIG ELEVATOR-G.A.T.O.R.
Construction cost 20% more than single E-Gator.
Operating day rate estimated at only 33% more.
Performance (drilling efficiency) 100% more.
Vessel able to move itself in very shallow water (less than 5 feet)
Each rig has the capability of drilling 6 wells; 12 wells total. With one move or rotation of the vessel, another 12 wells can be drilled, for a total of 24. Numerous vessel are reduced equating to a reduction in environmental impact of 96%.